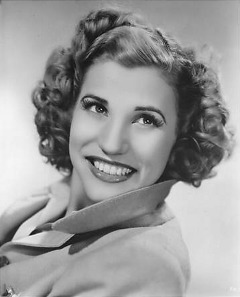 Patty Andrews, Last Survivor of Wartime Sister Trio, Dies at 94
Patty Andrews, the last surviving member of the Andrews Sisters trio, who lifted American spirits in World War II with songs such as "Don't Sit Under the Apple Tree" and "Boogie Woogie Bugle Boy," has died. She was 94.
She died yesterday at her home in Northridge, California, near Los Angeles, of natural causes, the Associated Press reported, citing family spokesman Alan Eichler.
http://www.bloomberg.com/news/2013-01-30/patty-andrews-last-survivor-of-wartime-sister-trio-dies-at-94.html
Maxene, Patty, and LaVerne appeared in 17 Hollywood films. Their first picture,
Argentine Nights
, paired them with another enthusiastic trio, the
Ritz Brothers
.
[12]
Universal Pictures
, always budget-conscious, refused to hire a choreographer, so the Ritzes taught the sisters some eccentric steps. Thus, in
Argentine Nights
and the sisters' next film,
Buck Privates
, the Andrews Sisters dance like the Ritz Brothers.
Universal
hired the sisters for two more Abbott and Costello comedies, and then promoted them to full-fledged stardom in B musicals.
What's Cookin',
Private Buckaroo,
and
Give Out, Sisters
(the latter portraying the sisters as old ladies) were among the team's popular full-length films.